An inflatable air cushion bag is a specialized product used to pack and protect goods, against impact and damage to goods during transportation. This type of airbag is often used a lot in online sales units such as cosmetics, glassware, and electronic components… In the following article, SKYPAK will introduce 3 types of carton insert airbags. most commonly used today.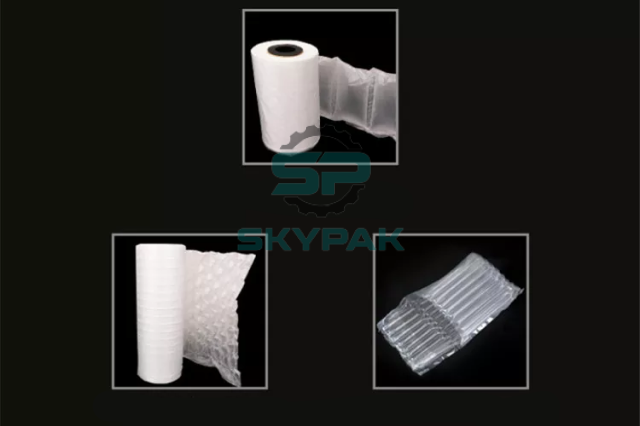 The benefits of inflatable air cushion
Inflatable air cushion is an extremely effective packaging solution to protect goods. With the protection of the carton insert airbag, you do not need to worry about any product damage occurring during transportation.
Protect the product from shocks
Space-saving, compact
Reduce packaging and shipping costs
Easy to use, can be pumped, cut by hand, or by machine
Bearing good
Made from lightweight, environmentally friendly, recyclable, and reusable HDPE plastic material
3 Types of inflatable air cushion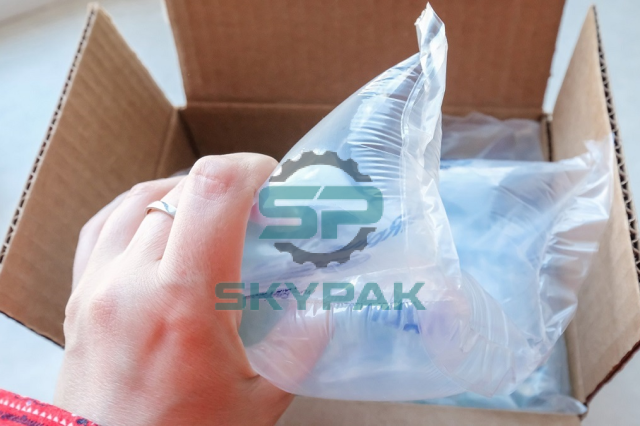 The airbag inserts a carton in the form of a roll of many bags, when inflated with air, the bag will have the shape of a mini pillow. Each will be separated by an easy line, easily separate when used. Pillow airbags are used to insert around the goods, usually, the bags are inserted into the 4 sides of the carton when the box has a lot of space. The bag has a load capacity of 40-70kg.
Common sizes of pillow air bags: 10x20cm, 15x20cm, 20x20cm. With a roll length of 300-500m, about 15-20 mics thick.
The pillow airbag only takes about 5-10 seconds to inflate thanks to the help of the air blower. Users can also customize the amount of air injected into the bag depending on the need for dunnage.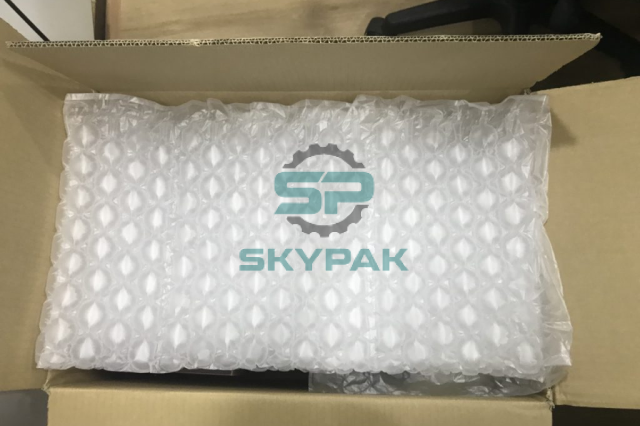 Cushioned cargo airbags are shaped like a cushion, in which there are many small inflated balloons. Cushion-type airbags are quite similar to bubble wrap, but the cushion-type carton airbag is large, hard, and does not easily break the bubble film like bubble wrap. The product is usually used to wrap the product or used as a cushion on the bottom and mouth of the carton. Airbags of this type are often used in cases where there is little space left in the cargo box.
Common sizes of pad airbags: 20x40cm, 30x40cm. With a roll length of 300-500m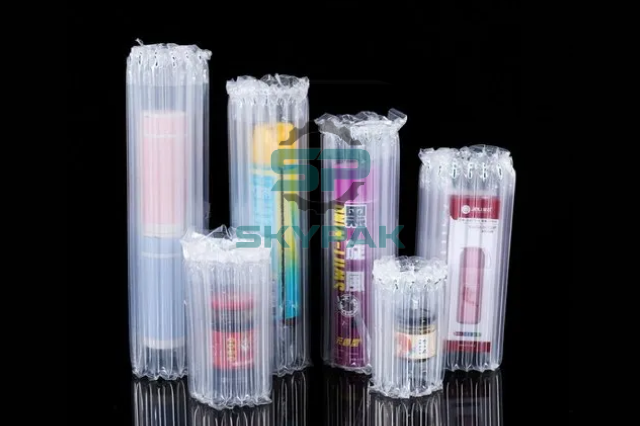 The airbag has a column-shaped airbag that takes up less space than the other two. The air column/tube bag can be inflated through the 1-way valve with a very convenient handheld blower. Each air column bag is designed independently of the other, each air column will automatically lock the valve when it is filled with air. Between the gas columns a separating groove. Therefore, even if one or a few gas columns are broken, it will not affect the use of other gas columns.
Inflatable air cushion is widely used in packing fragile products such as glass bottles, wine bottles, and ceramics… They are in the form of air coils with many different sizes for your option. packaging for your product.
Inflatable air cushion is a highly cost-effective choice and is widely used for stores, cosmetic companies, fragile products, wine bottles, bags and luggage, electrical products electronics, machinery parts, and food…