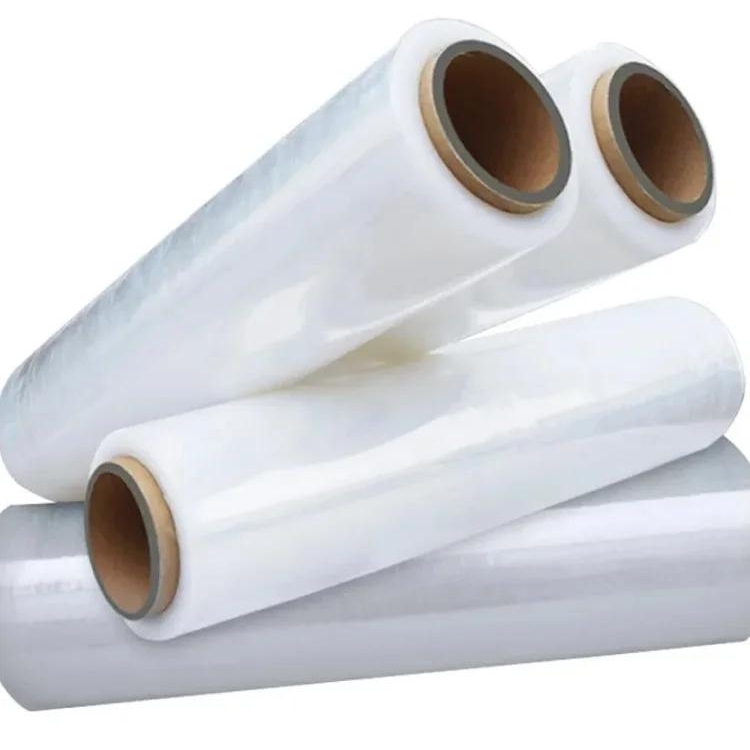 PE Stretch Film
IMPORT PRODUCTS AT A BEST PRICE
PRODUCT INFORMATION
PE Stretch Film plays a vital role in the world of packaging. It acts as a perfect, fixed protective layer, preventing dirt from sticking to the goods. PE Film is a fast and cost-effective way to protect your goods during transit.
What is PE Stretch Film? What are the outstanding features of PE Film?
Basic characteristics of PE Film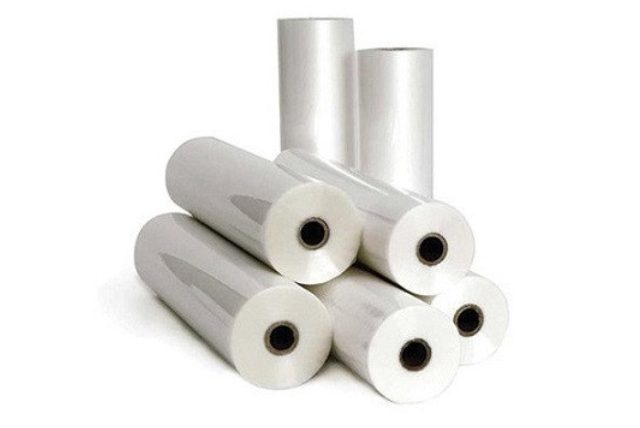 PE Stretch Film is a kind of high-stretch plastic film, also known as film.
PE Stretch Film has a transparent form like the food wrap used in the kitchen. But these are layers of wrapping film that is resistant and strong enough to bundle products together.
The membrane is made of LDPE plastic, has good electrical insulation, resistant to acids, alkalis, and organic solvents.
In particular, even at low temperatures, the packaging film made from PE plastic still retains a certain plasticity.
PE Stretch Film has lightweight, and good impact resistance, combined with the ability to stretch around product corners, crates, and pallets, providing increased resistance to puncture and tear as well as greater efficiency when used correctly. way.
PE Stretch Film has a high tack, which is one of the important characteristics of wrapping film as the film needs to be able to adhere firmly to other layers of the cargo and maintain its stickiness as conditions change.
In addition to securing loads, reducing product loss and tampering. PE Stretch Film also has excellent corrosion resistance, does not absorb moisture, and helps protect products against bad weather conditions.
Application of PE Film
Multi-purpose PE Film with high strength, mainly used in factories, production workshops, warehouses, and airports. Used to wrap goods transported or stored in warehouses, luggage, Wrapping film can also be used for many everyday items such as furniture, electronic goods, and food packaging. PE Film is used to wrap goods with light to heavy loads, from small to large, bulky.
Benefits of using PE Stretch Film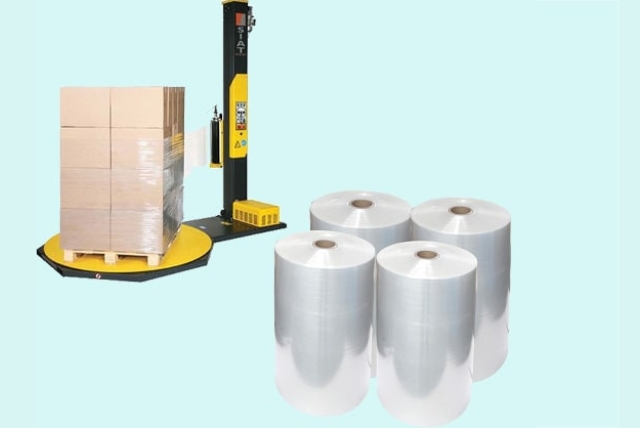 Product Protection
This is the greatest function and benefit of the stretch film reel. Wrapping the product in PE Stretch Film will protect the product from environmental agents such as moisture, dirt, and other small particles that adhere to the goods >97%. Helps keep goods clean and dry yet clearly visible.
Reduce product damage
PE Stretch Film helps to fix the product, securely connects the packages, and stabilizes the load, reducing breakage and product movement during transportation. With the characteristics of toughness and good impact resistance, PE Stretch Film helps to reduce impact due to impact and protects against scratches on the surface of goods during transportation. In addition, PE Stretch Film can also be bonded. Compatible with other packaging materials such as carton inserts, ensuring the safety of goods including fragile items such as glassware.
Improve processing efficiency
PE Stretch Film fuses the palletized goods to help stack the goods higher, fix the goods on the pallet, and prevent the goods from moving off the pallet during transportation. This maximizes warehouse space while storing products. Besides, you can easily wrap and move goods, helping to improve work productivity. With the help of PE Stretch Film rolls you can also conveniently stack specially shaped loads to stack products on flat surfaces.
Recyclable and reduced product loss
Most PE Films are eco-friendly and 100% recyclable. Wrapping products together in PE Film makes it more difficult to steal. Thus, it prevents product loss and ensures that the customer receives a completely new and tamper-free product. In addition, PE Stretch Film is a glossy and tight film that both protects the goods, and shows what's inside, and the scanning system can still be easily read.
Inventory management
Inventory management becomes easy if all similar products are bundled together. This reduces product segregation, making inventory control an efficient and time-saving process.
Instructions for using PE Stretch Film on pallets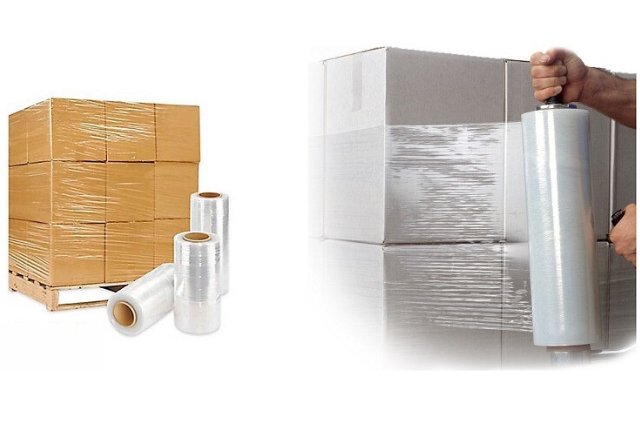 First, choose an intact pallet that is similar in size to the load you want to wrap.
Stack the products as close together as possible. Also, ensure even weight distribution, with heavier items at the bottom and lighter items at the top.
Attach the wrap by threading it through a corner of the pallet and fasten it until completely secure.
Start wrapping around the base of the load, wrapping at least 3 or 4 turns, and making sure the corners are wrapped tightly.
Wrap similarly with overlapping layers. Once you've reached the top, start scrolling down for a steady load.
Once all goods are securely wrapped, tear off the end and stick it under the edge of the pallet.
Once done, check the stability of the load by gently pushing the top items. If none of the items are loose or moved, you can be sure that the furniture is secure and won't move during transit.
Why buy our PE Stretch Film?
Currently, on the market, many places provide PE Stretch Film at a variety of prices. Customers should carefully study the information about the origin, specifications, and price before buying. PE Stretch Film products provided by Sky Pak ensure the following factors:
The thickness of the film is 17mic to ensure toughness and thickness, helping the product not be scratched or scratched during transportation up to 98%.
99% of the film will not break when stretched due to its good toughness and virgin resin quality.
Wide range of products with different sizes to choose from.
Return if the goods do not meet the quality as promised.
Fast delivery and good price for large quantities.
Buy PE Stretch Film in bulk, immediately contact the hotline: 079 3333 086 for a good price policy and free shipping.
Sky Pak hopes this article will help you better understand PE Stretch Film products. You can choose the optimal packing solution for individuals and businesses.
SPECIFICATIONS
SIMILAR PRODUCTS