Glue wood pallets are the best option for storing and transporting items in businesses. Glue wood has several benefits and is quite cheap, so it is extensively utilized. Customers must have a thorough understanding of the product in order to select a reliable provider and obtain the highest possible quality pallet. 
Glue wood pallets are cheap, thus they're popular in the domestic market. However, Glue wood pallets must meet ISPM-15 criteria for export.
Glue wood pallet product information 
Origin of Glue wood pallets
Glue is a tree with a high economic worth, as it is used to make furniture, wooden pallets, paper, and tablets, among other things. Because it is a heat-resistant plant, it is extensively spread in tropical nations like Indonesia, Papua New Guinea, and Vietnam. Glue forests are encouraged by the Vietnamese government to reproduce in order to green the barren hills due to their potential to boost forestry.

Glue grows quickly and adapts well, reaching an average height of 10-15m and a maximum height of 25-30m; its stems are straight and have an average diameter of 10-15cm.

There are more than 200 different varieties of Glue in the world, Glue wood pallets in Vietnam are produced from the trunk of the Glue tree, which grows quickly and

yields raw wood after only 5 years of cultivation.

Because of their longevity and low cost,

Glue wood pallets account for 90% of all wooden pallets

on the market.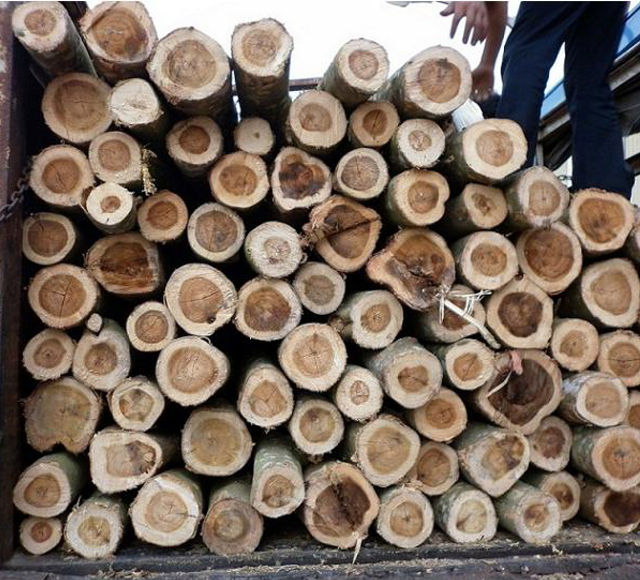 Advantages of Glue wood pallets
It is a light, easy-to-work-with wood.

When exposed to often changing wet and sunny weather conditions, Glue wood's essential oil helps retain the pallet's durability.

It possesses a

large load capacity

.

Because the wood is light in color, the wood grain is smooth, and the paint color is simple to stick to, it has a

high aesthetic value

.

Because the raw materials for Glue wood are grown and processed in the country,

the price is inexpensive

. 
Disadvantages of Glue wood pallets
Less load capacity than pine pallets

Mold-resistant and termite-resistant

Easy to warp after a period of use 
Glue wood pallets have significant drawbacks in addition to their cost and aesthetic advantages. As a result, when purchasing pallets in bulk, buyers should consider their intended usage and budget before making a decision. Here are some tips from SKY PAK's experts.
Effective optimization method to minimize the risk of using Glue wood pallets 
Determine the need

for the product.
               + Glue wood pallets can be used for local transportation and storage as well as export to neighboring countries.
               + Pallets made of pine wood should be prioritized for commodities exported to markets such as the United States and Europe. As a result of improved mold resistance. Find out more about the products made from pine wood pallets.
Read product information carefully and

seek assistance from a reliable provider

on specifications, pricing, and other issues.

Pallet-filled workshops must be well-ventilated and kept clean

. Avoid storing the product near a source of high humidity or an open flame.

Loading goods that are heavier than a pallet is not recommended.

To save space and prevent goods from being displaced during transit, pallets should be stacked precisely and neatly.

Conditions to determine whether a Glue wood pallet product is exportable 
Glue wood pallets that are to be shipped to other countries must meet

ISPM 15 quality standards

(International Standard for Phytosanitary Measures No. 15), which are mandatory packing safety criteria for wooden products, such as pallets, that are to be transferred to other countries. 

A stringent sterilization process is required for a product to be certified as standard. There are two ways of sterilizing that have been approved:
              + Heat treatment
              + Disinfection with Methyl Bromide. This standard was designed to limit the spread of insects and illnesses that could harm other countries' plants and ecosystems by importing goods.
Suppliers of standard Glue wood pallets must obtain a certificate of standardization, and the standard stamp is also placed on Glue wood pallets, as seen in the figure below.
Criteria for a standard pallet
The qualified pallets for export to foreign markets must meet quality standard ISPM 15 (International Standard for Phytosanitary Measures No. 15) – mandatory packaging safety standards for wooden products, wooden pallets, etc. exported to foreign countries. 
The product needs to undergo a strict sterilization process to get a certificate. There are 2 approved sterilization methods:
              + Heat treatment 
              + Use of a chemical named Methyl Bromide. This standard is intended to prevent the spread of insects and pathogens with negative impacts on the plants and ecosystems of other countries through the export.
Suppliers of standard pinewood pallets must obtain a certificate, and the pinewood pallets must be also stamped with a standard certificate as shown in the illustrative figure below.
 Wood pallets, in particular, have received worldwide accreditation from the IPCC (Intergovernmental Panel on Climate Change) as a result of the process of cultivating trees to help enhance forestry and green desolate slopes.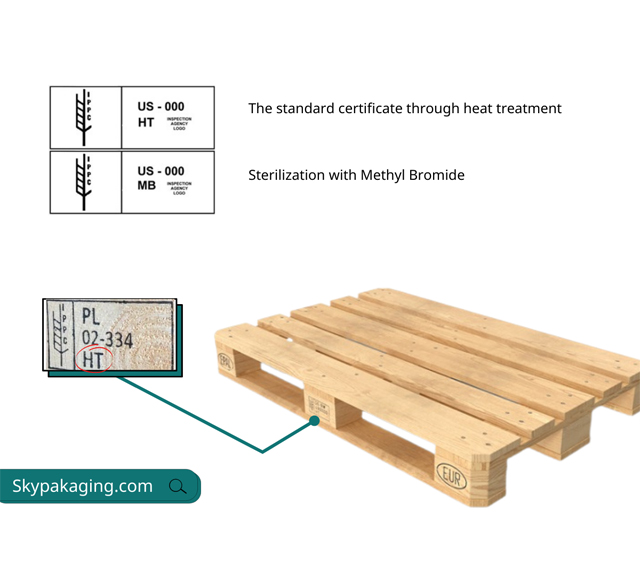 Convenient solution for customers using SKYPAK Glue wood pallets
SKYPAK is a reputable supplier of Glue wood pallets that fulfill the ISPM 15 standard, using only domestic wood sources to produce high-quality Glue wood pallets that meet export criteria and keep items safe.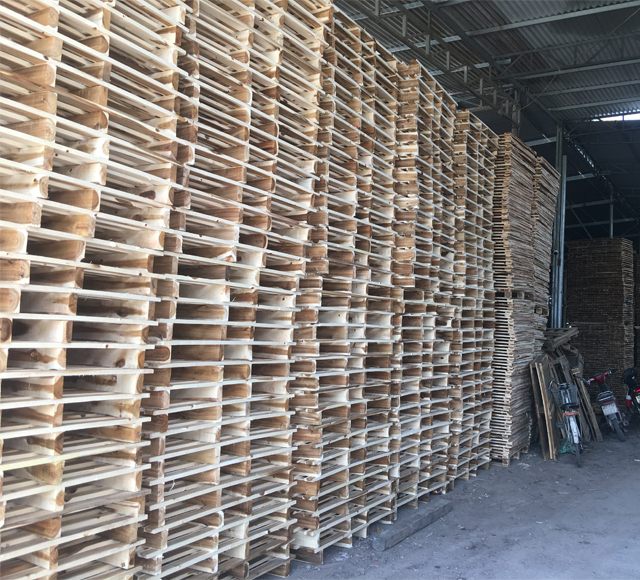 Providing a huge quantity of Glue wood pallets to large businesses with a factory system of more than 5,000 m2 and a monthly production capacity of more than 40,000 goods.

Providing a comprehensive service package: Quick one-on-one consultation, free sample supply, and professional purchasing and delivery process.

Design in accordance with the specifications.

Competitive price, with good discounts based on the number of purchases.

With Glue wood pallets that are substandard, we provide a one-to-one warranty.
Get a quote for SKYPAK Glue wood pallets
Customers are required to provide

Type of wood 

Ordering quantity 

Detailed drawings (if any).

If the drawings are not available, the customer needs to provide the entire information about the dimensions of the wooden bars, stringers, and stands

Other requirements: trimming or not, issuance of HT or MB certificates, prints on products, etc.
Hopefully, the information about the pallet provided by the SKY PAK will give customers an overview of the product for the ease selection of right products based on the needs of enterprises.