IMPORT PRODUCTS AT A BEST PRICE
PRODUCT INFORMATION
New pallets made of pinewood are very good to protect goods and optimize space for enterprises demanding transporting or storage in bulk. The qualified pinewood pallet for export is an ISPM 15-certified product.
To find out the factors making the strong competitiveness of pinewood pallets compared to other products on the market and how to optimize efficiency as well as minimize the risks, let's explore the article below
Origin and characteristics of pinewood pallets
Origin of pinewood
Pine trees grow strongly in the temperate climate, so they are very popular in countries with the type of mentioned-above climate such as America and Europe. The pine tree grows fast, and a mature one can reach a height of 30-35m with a round, large, and upright trunk, which is favorable to transport and saw into pieces of pinewood for the needs of industrial production, furniture, logistics, etc.
The resin in the tree trunk is considered perfect protection from the invasion of termites, which also exists in pinewood, making the high durability for products made of pinewood, up to over 20 years, depending on the purpose of use and preservation.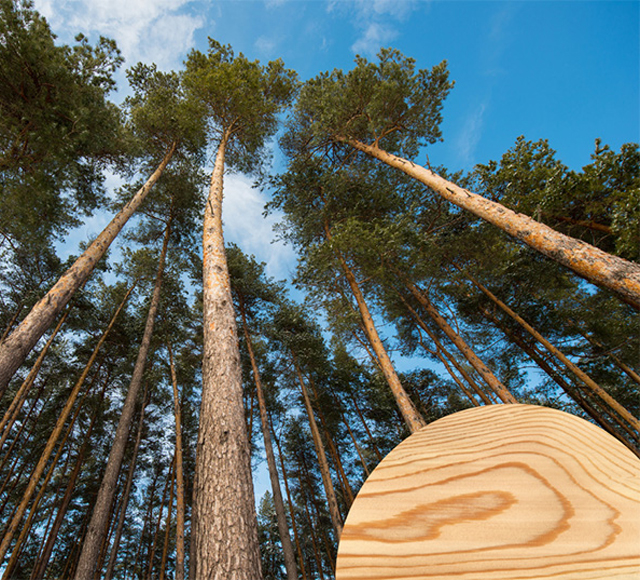 Raw pinewood imported from foreign countries such as Brazil, New Zealand, Chile, etc. is possible to manufacture pinewood pallets of higher standards than domestic raw pinewood due to less favorable weather conditions.
Advantages of pinewood pallets
Good bearing capacity with loads from 1000kg or more

Extremely good protection of goods

thanks to the solid structure of pinewood

Pinewood pallet has a relatively

light weight and square shape

, which is convenient for loading and mobilization in the warehouse 

It is capable of anti-mold, and highly durable thanks to the resin inside the pinewood.

Accordingly, the pinewood pallets are a reasonable option to transport goods stuffed in containers and export them to the demanding markets in the world.

The pinewood pallets can be

reused

as home furniture products
Disadvantages of pinewood pallets 
The price is higher

than that of Melaleuca wood pallets, plastic pallets or secondhand pallets, etc.

It is flammable, resulting in fire

Susceptible to mold under high humidity conditions

The product may be broken in case of improper use or overloading
In addition to outstanding advantages of load and durability, there are a number of limitations for pinewood pallets. However, it is possible to completely remove and control the mentioned-above disadvantages through some recommendations from SKYPAK's experts  
How to optimize efficiency and limit risks to a minimum for pinewood pallets
Identify demand for use of the product

Investigate thoroughly the product and choose a reputable supplier to get advice on sizes and prices

Warehouses of pallets must be well ventilated and clean. Do not place the products near areas with high humidity or in contact with fire

Do not overload

Arrange the pallet squarely and neatly to optimize space and avoid displacement during transport.
Criteria for a standard pinewood pallet
The qualified pinewood pallets for export to foreign markets must meet quality standard ISPM 15 (International Standard for Phytosanitary Measures No. 15) – mandatory packaging safety standards for wooden products, wooden pallets, etc. exported to foreign countries. 
The product needs to undergo a strict sterilization process to get a certificate. There are 2 approved sterilization methods:
  + Heat treatment 
  + Use of a chemical named Methyl Bromide. This standard is intended to prevent the spread of insects and pathogens with negative impacts on the plants and ecosystems of other countries through the export.
Suppliers of standard pinewood pallets must obtain a certificate, and the pinewood pallets must be also stamped with a standard certificate as shown in the illustrative figure below.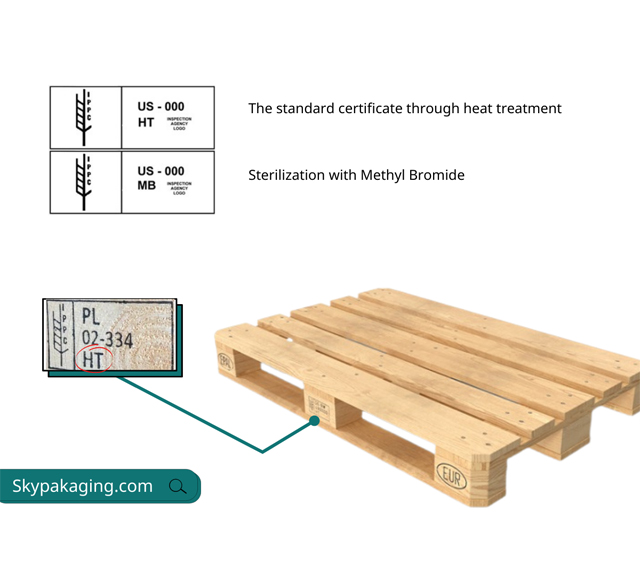 A convenient solution for customers who use the pinewood pallets of SKYPAK
SKYPAK is a reputable supplier of ISPM 15-certified pinewood pallets with wood origin from foreign partners such as Brazil, New Zealand, Chile, etc. to produce superior pinewood pallets, and export to the demanding markets in the world such as the US and Europe.
Provide pinewood pallets in bulk to large-scale enterprises with the

factories of over 5000 m2, and a production scale of more than 40000 products per month

All-in service: Quick – professional consultation, free use of samples, professional purchasing and delivery process 

Custom design on request
A competitive price with good discounts based on the ordering quantity
1-to-1 exchange warranty for damaged pinewood pallets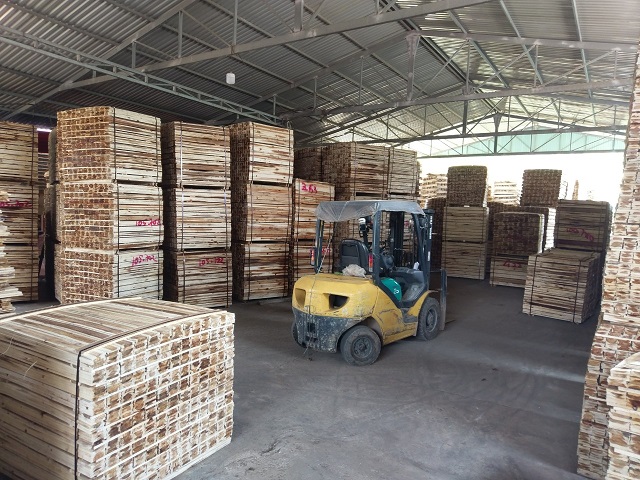 Get a quote for pinewood pallets from SKYPAK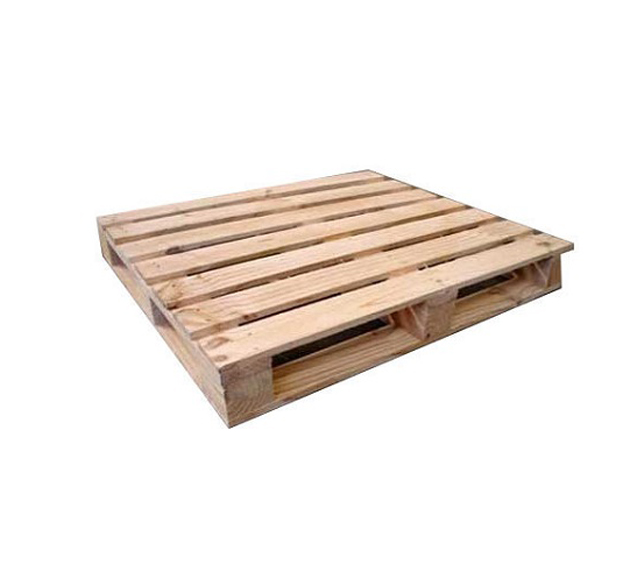 Customers are required to provide

Type of wood 

Ordering quantity 

Detailed drawings (if any).

If the drawings are not available, the customer needs to provide the entire information about the dimensions of the wooden bars, stringers, and stands

Other requirements: trimming or not, issuance of HT or MB certificates, prints on products, etc.
Hopefully, the information about the new pinewood pallet provided by the SKY PAK will give customers an overview of the product for the easy selection of right products based on the needs of enterprises.  
SPECIFICATIONS
Dimensions (LxWxH):

800x1200x150 / 140mm
1100x1100x150 / 140mm
1000x1200x150 / 140mm

Weight: > 15kg
Material: Wood
Load capacity:>1000kg
Produced by Vietnam
Standard quality: ISPM 15
SIMILAR PRODUCTS