IMPORT PRODUCTS AT A BEST PRICE
PRODUCT INFORMATION
The last-long preservation and assured product quality are the reasons for the popularity of Oxygen Absorbers 15cc in the market. However, its ingredients and usage play an important role in making a difference in the quality of the oxygen absorbers. 
The oxygen absorber certified by FDA, USA is a qualified product to preserve food and be possibly exported to the most demanding markets in the world. 
Basic properties of Oxygen absorbers 15cc
Ingredients: In addition to iron as the main ingredient, this product also consists of several auxiliary components at various concentrations depending on the manufacturer, resulting in the difference in the quality and price of the oxygen absorbers.
There are 4 main cubic capacities: 15cc, 30cc, 50cc, and 100cc. The Oxygen Absorbers 15cc is suitable for products with a small capacity.
Advantages of the 15cc Oxygen absorber
Possibly used in food, pharmaceutical, and agricultural products

Unlike the desiccant pack, the oxygen absorber demonstrates its outstanding ability to absorb oxygen, moisture and resist oil

It absorbs completely residual oxygen inside the package and removes oxygen outside during food storage, thereby preventing the growth of bacteria

No need for a microbial treatment process while the color and flavor of the product (for food) are still assured

Safe for consumers' health without side effects, and cancer risks

More convenient and cost-effective than vacuum suction, inert injection, etc.

The usage time of the product is extended
What are the disadvantages of 15cc Oxygen absorbers?
The Oxygen absorbers 15cc is the only option to preserve products with a small capacity and satisfies two criteria – Oxygen removal and cost savings, so it almost has no disadvantages for consumers' demand. However, the manufacturers also need to pay attention to some points to optimize the efficiency of the 15cc Oxygen absorber in use:
A few dozen to hundreds of the 15cc Oxygen absorber is included in a vacuum bag in order to quickly perform "Oxygen removal" right after opening the package. Therefore, it should be quickly put into the product package within 1 hour to avoid quality damage. 

After opening the bag, the oxygen absorbers should be laid evenly on the flat surface of a dry and clean plastic tray without overlapping because it will heat quickly, leading to product quality damage.

If not used up, use a vacuum to preserve the product

The product capacity should not be larger than the capacity of the 15cc oxygen absorber

Food must be cool before packaging
Instructions for use and maintenance of the 15cc oxygen absorber
Use of an appropriate package
               + It is recommended to use the package made of materials that prevent Oxygen or have an air permeability below 18c.c/m2/24h.
               + Recommended packages: KOP/CPP, KOP/PE, KNY/CPP, KNY/PE, KPET/CPP, KPET/PE, Aluminum foil, etc.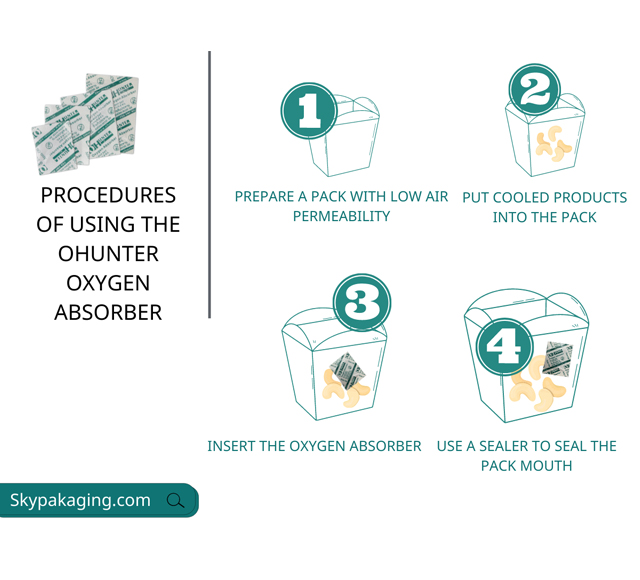 Customers can watch more videos on how to use the oxygen absorbers 15cc here
OHUNTER 15cc oxygen absorber – FDA-certified, US
The Oxygen absorber with Singapore's OHUNTER brand
OHUNTER is a brand researched and manufactured according to

Singapore's technology lines
OHUNTER Oxygen absorber is very

safe for the preservation of food, agricultural and pharmaceutical products

since it is certified for quality:

 SGS TEST of Singapore, ISO standard, MSDS, 

Vietnam's certificate of food safety and hygiene

.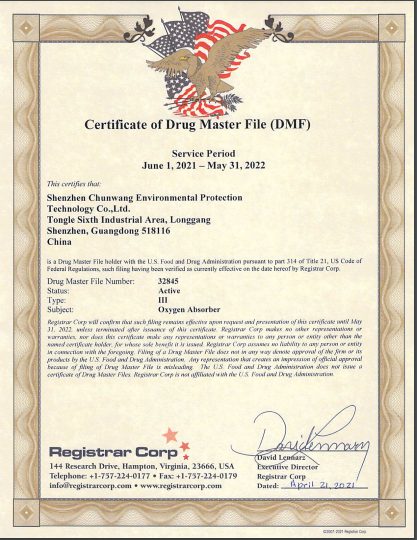 In particular, the OHUNTER oxygen absorber is also certified by FDA (Food and Drug Administration) – an important certificate in quality control for the anti-oil oxygen absorber, which means that the product is possible to export to most of the most demanding markets.
Outstanding advantages of the OHUNTER anti-oil oxygen absorber pack
The oxygen absorption capacity is 8 times high than the specification state on the pack, 2-3 times higher than the normal type 

With the composition of iron powder, its oxygen absorption capacity is 8 times higher. In addition, the product also contains activated carbon, diatomaceous earth, sodium salt, etc.

Prevent aerobic bacteria from causing mold, generating dangerous toxins

Anti-oxidation of oil in food

Thanks to extremely good desiccation, it is suitable to preserve food, and maintain the fresh flavor

Extend the products' expiry, thereby saving the material costs for enterprises



Packing specification of the OHUNTER 15cc Oxygen Absorber pack
Each oxygen absorber

consists of 3 layers

including an Outer bearing PET plastic shell, high-quality oil-resistant paper in the middle and an inner PE plastic line.

The oil-resistant paper layer

in the middle has

a thick and high-quality texture

to provide outstanding oil resistance and easy oxygen circulation for the OHUNTER oxygen absorber without clogging. Accordingly, the OHUNTER 15cc Oxygen absorber pack is a good option for the preservation of oily foods such as moon cakes, "pia" cakes, nutritious nuts, etc.
| | | | | | |
| --- | --- | --- | --- | --- | --- |
| Type | Net weight | Size/ bag (mm) | Pack/bag | Pack/carton | Carton dimension (cm) |
| 30cc | 2,3g ± 0,15g | 35×45 | 300 | 6000 | 39*20*30 |
A convenient solution for customers who have purchase the OHUNTER 15cc Oxygen absorber of SKYPAK
SKY PAK is the exclusive distributor of OHUNTER 15cc Oxygen absorber packs in the Vietnam market, and is committed to quality first. 
All-in service: Quick – professional consultation, free use of samples, professional purchasing and delivery process 

Available in 4 main capacities as well as other capacities on request

A competitive price with good discounts based on the ordering quantity

1-to-1 exchange warranty for low-quality OHUNTER Oxygen absorber packs
Hopefully, the Oxygen absorber 15cc information provided by SKY PAK will give customers an overview of the product for the easy selection of the right products based on the needs of enterprises.  
SPECIFICATIONS
Ingredients: iron powder, activated carbon, diatom soil, sodium salt …
Packing: 3 layers: impact resistant PET plastic, oil resistant paper, PE plastic layer against impact
Certification: FDA of America, SGS TEST of Singapore, ISO standard, MSDS, announced Vietnam food safety and hygiene
Indications: do not eat
Capacity: 15cc <=> 15ml
Size: 30X40 (mm)
Net Weight: 1.4gr
Deoxidize: 120cc (8 times more capacity)
Moisture absorption: good hygroscopicity
Standard: 10,000 packs / carton (500 packs / bag, 20 bags / carton).
SIMILAR PRODUCTS