Air pillow packagings are a pillow solution that allows you to fill gaps instantly for a variety of packaging applications. air pillow packaging bags use puncture-resistant high-density polyethylene (HDPE) film to form an air pillow packaging, and bubble wrap to protect your goods. The pillow-lined airbag solution is an eco-friendly choice to fill gaps, secure, and protect cargo.
Features of the air pillow packaging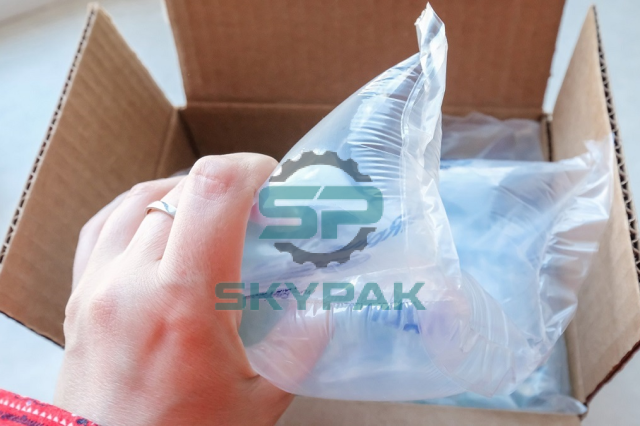 Airbags for pillowcase cartons are made from environmentally friendly HDPE plastic. When filled with air, they are shaped like a pillow.
Airbags bring convenience to users because they have a large roll, it only takes 5-10 seconds to inflate the airbag with the help of the airbag blower. At the same time, they are also easy to separate thanks to the easy line, which is very convenient for users.
Pillow-type airbag products are used a lot in packing cartons when there is a lot of space inside the box. Airbags are added to fix, minimizing the friction and impact of goods during transportation.
Top 9 benefits of using an air pillow packaging
In addition to increased safety and lightweight, air pillow packagings also offer several packaging benefits.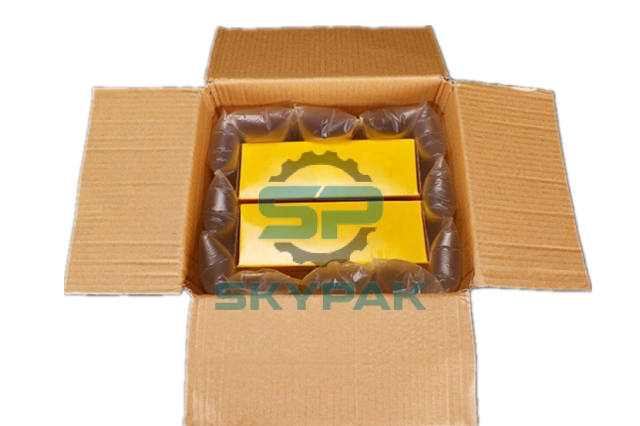 Increased safety: air pillow packagings are a great gap-filling option, best used to intercept or hold items in transit.
Increased versatility: air pillow packagings come in a variety of roles and sizes to fit your specific needs. Since inflatable pillows come in different sizes and don't require all of them, you can customize the protection of each product easily. This reduces the need for multiple layers of packaging protection.
Ease of Use: Each roll has an easy line between each pillow so they're easy to tear off to fill gaps quickly.
air pillow packagings are also not only easier for distributors. Customers will appreciate an easy opening experience with less clutter and easy disposal. Peanut packaging is messy and thanks to static electricity, they stick to everything and tend to break easily into smaller pieces causing a huge mess to clean up and handle. air pillow packagings are easy to clean and takes up very little space when liquidating.
Good bearing capacity: The product can bear a load from 40-70kg.
Lightweight: This void-fill pillow-type airbag is also extremely light, making it a popular choice, helping to reduce box weight and other shipping costs.
Cleaner product packaging: In addition to avoiding clutter from loose space-filling materials, paper, and foam, using pillow-case airbags also reduce the chance of protective fillers sticking to or sticking to the product. your property, whether due to static electricity or the materials in the packaging.
Sustainable packaging solutions: This is a concern of customers looking for eco-friendly, recyclable packaging options. The padded inflatable pillow is made from recyclable HDPE, allowing you to use it as a long-lasting packaging material.
Lower long-term cost impact: The average cost per pack of inflatable airbags is often lower than other options because, despite the higher initial purchase cost, you are using fewer items. more data per pack, so you can save money in the long run.