Hardwood pallets are an iconic part of any warehouse or supply chain. Wooden pallets are the most commonly used and easiest to recycle because they have a simple structure, pieces of wood are put together, used to lift any goods, and transported in large quantities. Why are pallets such an important part of the supply chain and how do they contribute to worker safety and loading times? Let's find out in the following article.
The important role of hardwood pallets in the supply chain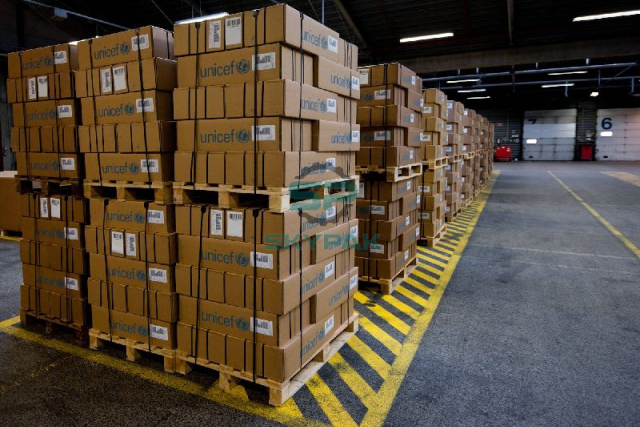 Pallets reduce loading and unloading time:  Instead of moving individual boxes or crates, hardwood pallets allow products to be moved in bulk. Using pallets is much easier than moving other heavy or bulky products one by one. Simply load the pallet and use the forklift to move it.
Improve working conditions and improve worker safety:  Properly packed wooden pallets are safer than loosely stacked products that can fall or spill and create the risk of damage cargo damage and injury. While it is true that a poorly loaded pallet can also be dangerous, training your employees to use pallets effectively and safely can reduce the risk of injury on the job.
Reduce warehouse costs and improve logistics: Goods are stacked neatly on pallets, helping to reduce storage space. Furthermore, the shortened loading and unloading time improves efficiency and reduces labor costs significantly.
Allows you to deliver higher quality products: There is a high chance that the packaging or the product itself may be damaged when you move individual parts. Hardwood pallets prevent this by protecting your products and allowing you to move them in bulk.
How to choose the best packing pallet for your application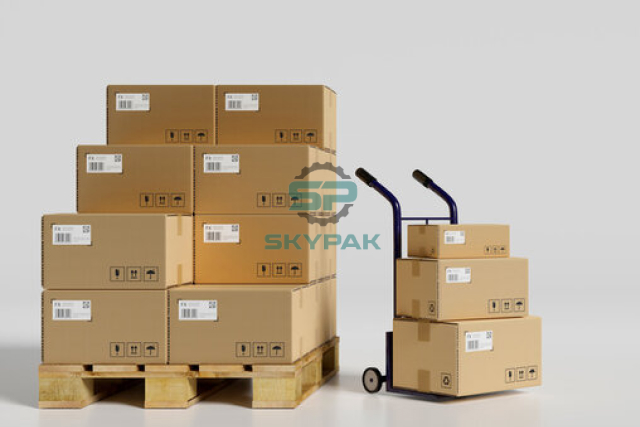 It seems that pallets are the perfect tool to protect and transport your products, but how do you decide on the best pallet for your products? There are 3 things you should consider before investing in wooden pallets
Choose the right format for your pallet handling
When it comes to choosing the right handling pallet for your supply chain, it is essential to check that it is the right fit for your logistics operations. As supply chains become ever more standardized, you need to choose the right pallets for the automation they may encounter throughout their journey. With that in mind, you should make the pallet format your primary focus. The first thing to consider is the number of pallet entrances to handle, i.e. the number of edges the pallet truck can handle: Pallets are generally of two types:
Dual entry pallet: a type of pallet that can only be mounted from the front or rear. Selecting this option means considering how they will be organized in your inventory
4-way pallets: more practical, these pallets are accessible from all sides. It is easier to transport and store them as there is no need to consider how they will be placed.
Finally, it is also necessary to pay attention to the international pallet format. Normally, pallet products exported to the European market and fastidious countries must meet the ISPM15 standard (This phytosanitary standard was introduced in 2002 by the International Plant Protection Convention) and  EPAL standard. (issued by the European Pallet Association)
Consider the weight of goods to be transported
The weight of your cargo is undeniably one of the important criteria to consider when choosing the right pallet. Some materials are more suitable than others because of their natural tendency to support heavier loads. To protect your goods during transit, you should choose pallets with appropriate durability.
Storage conditions
The choice of the pallet will vary depending on the storage restrictions required to preserve your goods.
There are two ways to store pallets in a logistics warehouse:
Ground-loaded pallets: These are deposited directly into the appropriate location and can be handled by pallet trucks.
Cargo pallets are stored overhead, in racks (also called racks)
In addition, you must also consider whether your goods can be handled easily without risk of damage.
Also, choose the right pallet for your storage conditions. For example, where there are particularly wet areas, wooden pallets can be potentially high risk.
Pallets may seem like simple items, but they are essential when it comes to creating an efficient, cost-effective supply chain. Choosing a well-handled đóngpacking pallet is a decision that should not be taken lightly. Your choice must meet not only your pallet needs but also the entire supply chain.