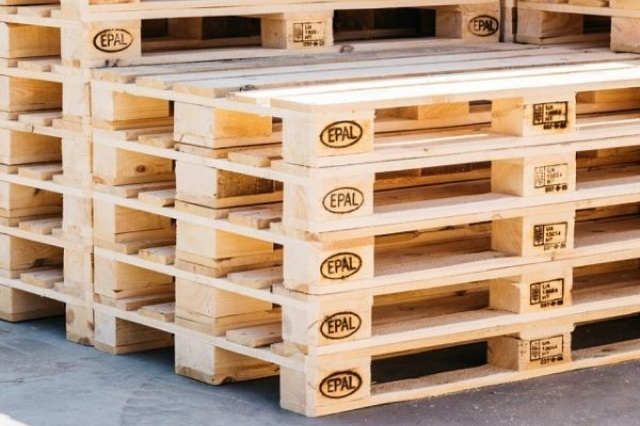 The pallet is not only diverse in materials such as plastic, steel, and wood, but also pallets in each material are classified into many different types. Specifically, for wooden pallets depending on the origin, the quality of each finished pallet product will be different. Pine is known for its solidity, beautiful wood finish, and wide availability. Therefore, they are ideal in many applications, especially in the manufacture of pallets, making the transportation of goods easier. To learn more about pine pallets, let's explore them in the following article.
Origin of pine wood pallets
Pine is a softwood tree derived from gymnosperms, with large, upright, large, and round trunks. Pine is known for its availability, durability, and resistance as well as beautiful appearance. Typically used in pallet manufacturing because softwoods tend to be more weight-balanced than hardwoods, resulting in a product with a high strength-to-weight ratio.
Pinewood pallets in the Vietnamese market are usually imported from two main sources: pinewood grown in Vietnam and pinewood imported from abroad such as Chile, Newzealand, and Brazil. Pinewood in Vietnam often grows in highland areas, and places with temperate climates such as Da Lat, the Central Highlands, etc. Pinewood imported and processed in foreign countries is usually of better quality than pinewood imported whole, sawn, and processed in Vietnam.
Outstanding features of pine wood pallets
The popular sizes of pine wood pallets on the market today are: 1000x1000x150 (mm), 1100x1100x150 (mm), 1200x800x150 (mm) respectively. In addition, businesses can customize the pallet size to match the size of the goods.
Availability: Pine grown for production develops and grows quickly, so the quantity of pine wood for pallet production, supplied to the market is always available all year round and is sufficient.
Pinewood pallets are light and easy to handle and transport: Because the inside of the pine tree has a protective resin layer, this plastic layer always exists inside the pine wood even if it is treated, so they are resistant to damage. Invasion of termites and termites outside. Therefore, pallets made from pine are quite durable.
The new pine wood pallet has a natural wood grain and bright white color, ensuring aesthetics.
Good bearing capacity:   Pinewood pallet has a solid structure, can withstand big loads, and can support goods from 300 – 2000 kg.
Reusable pallets: Used pine wood pallets can be cut to reuse or be processed, forming home furniture products such as tables, chairs, beds, shelves, etc.
Fumigation-treated pine pallets meeting ISPM-15 and EPAL standards (European Pallet Association) can easily export goods to Europe and demanding markets.
Pallets made from pine wood imported and processed abroad are often more expensive than pallets manufactured in Vietnam.
Classification of pine wood pallets
Based on design and function, pallets divide into two types: two lifting directions and four lifting directions.
Classification of pine wood pallets




The two-way lifting pallet is a pallet with only two directions to put the forklip in for lifting. Pallets can be lifted and lowered in two ways: front and rear.

The four-way lifting pallet is a 4-way pallet to put the forklip in for lifting. Pallets can be lifted in four directions: front and rear, left and right.
Although there are many types of pallets manufactured from many different materials. However, pine wood pallets are still one of the top priority solutions for manufacturers and users. Hopefully, the information SKYPAK shared can help you better understand pine pallets and help you to choose the right pallet product.