There are a variety of dunnage airbag products that can help you improve shipment stability and prevent product damage. However, for large cargo containers, placed in containers, trucks, or boats, you need to choose the right type of Dunnage Air Bags. In this article, we will learn about the two most popular types of container airbags today.
2 Types of popupar Dunnage Air Bags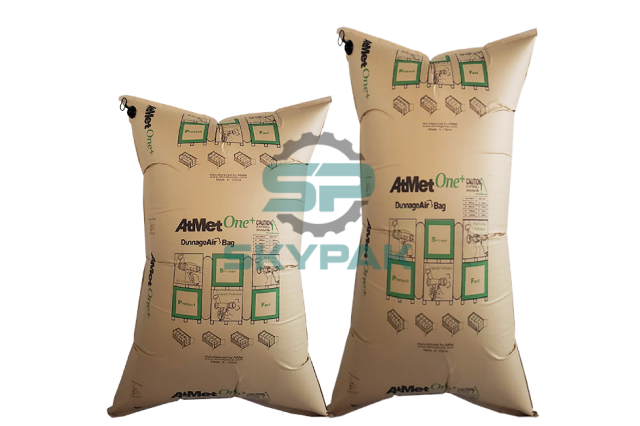 Kraft Dunnage Air Bags usually have a 3-layer structure. The outside is made up of many layers of kraft paper and laminated with 1 layer of PP plastic. The inside is made of polyethylene plastic, which is stamped with many layers of LDPE, HDPE, PA, and PE, forming a multi-layer plastic layer that holds and compresses air well.
This type of dunnage airbag is considered the optimal choice in cargo dunnage methods. They come in a variety of sizes and tonnages to meet different transportation requirements. Paper-lined airbags help prevent side-to-side movement while keeping your cargo in place. They are recyclable after use, which makes them a convenient method to protect and secure shipping containers. The vast majority of businesses in Vietnam trust this type of airbag because they are quite sturdy and easy to recycle and protect the environment. However, the price of Kraft bags is usually higher than that of PP plastic airbags.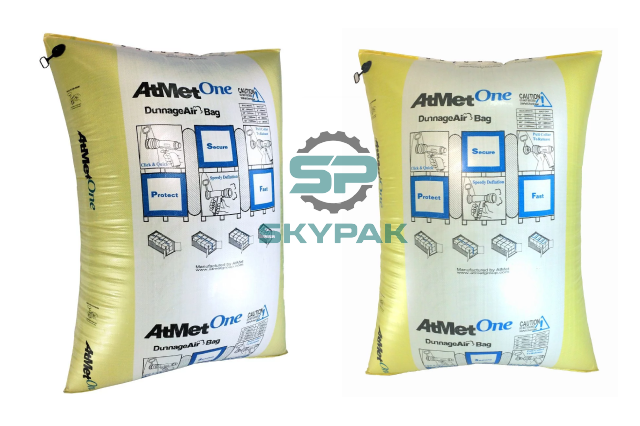 This type of container cargo airbag is mainly produced from PP woven plastic. Has a 2-layer structure, the outside is a good-strength PP Woven plastic layer, which is resistant to water. Inside is multi-layer sealed plastic such as LDPE, HDPE, PA, and PE. These bags are best used for medium to heavy loads, especially for items shipped by container. Unlike some other types of dunnage airbags, PP plastic container bags are resistant to harsh weather conditions and chemical environments. Because of their waterproofing ability, they can be used for frozen goods or products with high humidity…
They are also much lighter than paper-lined airbags and other dunnage materials. This makes PP plastic bags easier to handle during loading and unloading. Polywoven dunnage airbags have outstanding load stability and high resistance to load displacement. Plastic container bags are very popular in European countries because they are environmentally friendly and easier to recycle than paper bags.
Frequently asked questions about container airbags
1. Can the container cargo airbag be used for fragile items such as ceramics, glass, etc.?
Cargo airbags have a sturdy multi-layer plastic compression structure and are capable of withstanding great pressure and high elasticity, so they help protect goods from being broken, displaced, or bumped during transportation.
2. Are airbags reusable?
Airbags can be reused many times, but their effectiveness depends on how customers pack their goods.
3. The space on the container is too wide, is the use of airbags effective?
Cargo airbags are available in different sizes. Just using a combination of airbags of the right size can fill the space between the boxes.
4. Does the container cargo airbag meet the needs of exporting goods?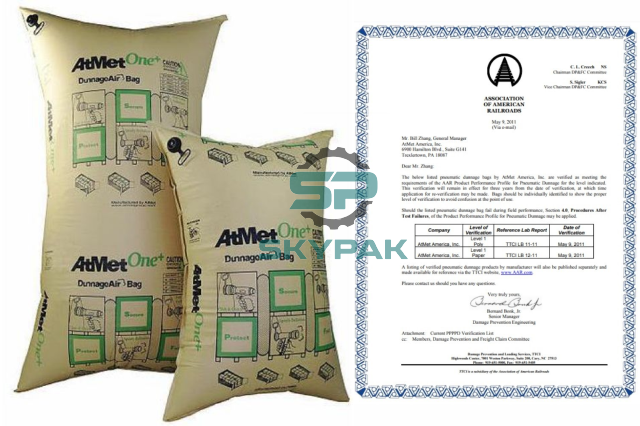 Atmet container airbag has achieved ISO 9001, SGS Test, ROHS certifications, and especially AAR (Association of American Railroads) certification from the United States, which is always appreciated for its quality and meets export standards in the world. world.
Each type of container airbag has its benefits tailored to your packaging and shipping purposes. Finding the right duffle bag can start with understanding the nature of the product you need to transport. Whether you use a train, truck, or freight train, once you understand your container, you can choose the right type of dunnage bag to effectively fill gaps and secure pallets.