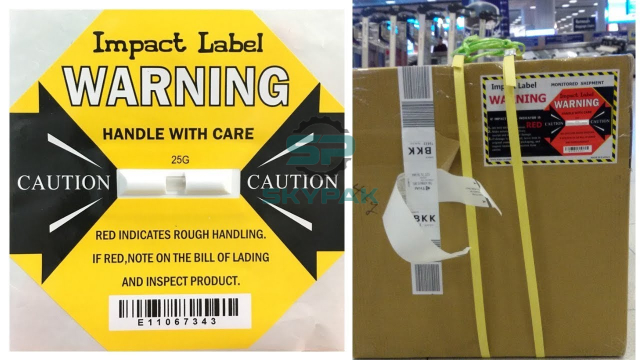 In the process of transporting products and goods, product breakage is inevitably inevitable. Especially for easy-to-access products such as wine bottles, crockery, glass, etc. This makes the supplier quite awkward in the process of assigning responsibility to the customer, the carrier, or the supplier. Company employees cause damaged packages when delivered to customers. That's why impact labels are made to track any shocks or bumps your goods encounter along the way through the supply chain and act as proof of who's going. responsible for the breakdown of damaged goods.
Structure of the impact labels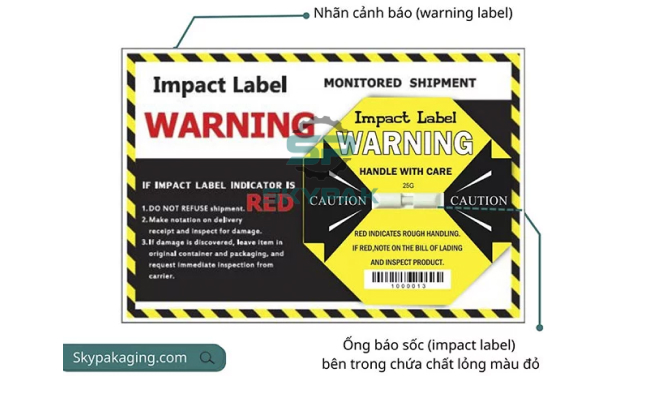 The structure of the impact labels consists of 2 main components: the warning label and the impact label, which contains a red liquid.
How the impact labels work:
Before handing over the parcel to the carrier, the impact label will be fixed on the box. When the goods are impacted by a strong force (higher than the G force indicated on the label) during transportation, the label shock tube will activate and will turn red. In addition, this shock tube will not be able to return to its original state, they will show a clear red color if the goods are not in their original shape. Therefore, the impact labeling on goods will allow parties in the logistics chain to easily detect that the shipment has been bumped or damaged during transportation.
Benefits of impact labels
All industries can take advantage of the benefits of Impact Labels including motorcycles, home appliances, electronics, glassware, ceramics, pharmaceuticals, and medical devices…
Putting impact labels on packages before shipping helps:
Reduce the risk of damage and cost of damage to goods by up to 70% (according to actual testing from the manufacturer WAN-YO Enterprise Co., Ltd)
Detect and promptly handle cases of problems with goods
Combined with other labels will allow you to pinpoint the party responsible for the mishandling of the goods
Provide valid and useful proof for mishandling cases
Help carriers are more attentive and handle your cargo more carefully
Enhance the company's image and reputation for high-quality delivery
Partners and customers when receiving goods can check and confirm the status of packages before receiving them. Thereby increasing customer satisfaction
The impact labels do not require you to make any changes to your packaging, product, or shipping method. Just stick them on the package, and the package is ready to use without any redesign that requires a large investment.
No matter what services or goods your business offers, you can benefit from the help of impact labelss. By turning color upon shocks or vibrations that occur during transportation and storage, they allow you to hold your entire supply chain accountable. It also helps prevent the mishandling of package personnel and demonstrates your commitment to customer quality.