If you are a frequent shopper online, you may have noticed that many companies, both large and small, are switching from using foam and paper to another type of packaging material: Air cushion packaging. Air cushion packaging for cartons provides excellent protection for your product by securing it securely. Here are the benefits and applications of carton insert airbags that make them the perfect solution for the safe transportation of goods.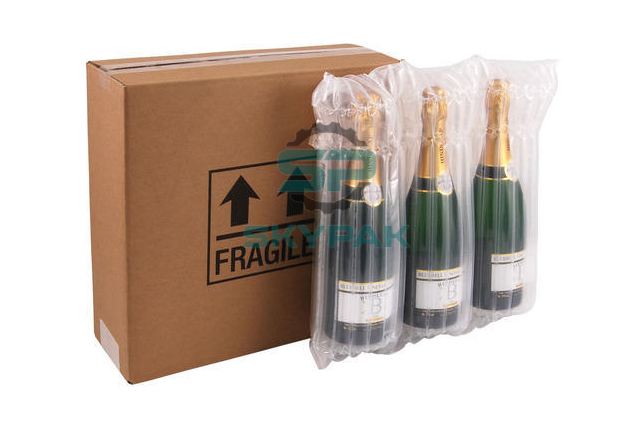 The benefits of the air cushion packaging for cartons
Product Protection
Impacts during transportation and rough handling often result in damaged goods, which of course add costs and complicate the entire distribution process. If your business has a high volume of damaged goods, the use of carton dunnage bags can be an ideal solution. When packing the product, Air Cushion Packaging for cartons can be placed above and around the product for all-around protection.
Cut the cost
As with most business matters, the first question on your mind should be "Will air cushion packaging save the overall cost of the business?". Airbags are lightweight and add practically no weight to your shipment, which saves freight costs. Air cushion packaging for cartons is usually in the form of rolls when needed to use new inflate. They, therefore, require less storage space. Since airbags come in different sizes, you can customize the protection of each product easily. This reduces the need for multiple layers of packaging protection.
Easy to use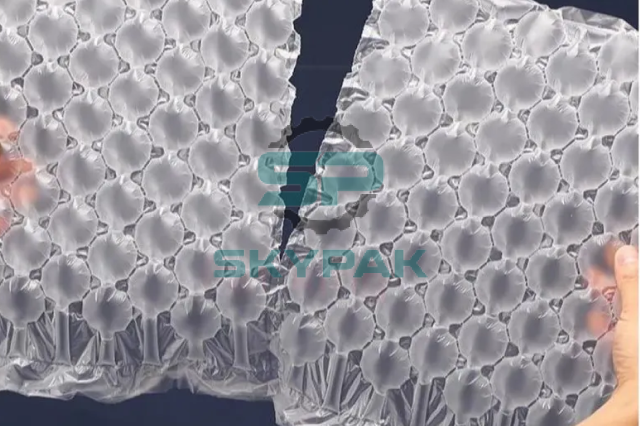 Each roll has an easy line in the center of each air cushion so it can be easily ripped off and filled in quickly. Reducing material waste is an important factor in overall business performance and can maximize profit savings. Air cushion packaging is not only easier for the distributor. It also makes customers appreciate an easy opening experience with less packaging.
Environmental friendliness
Since each dunnage bag is filled with air, the proportion of material that makes up the carton dunnage bag can be as low as 1% material and 99% air. Therefore, air cushion packaging is very efficient to handle. At the same time, the air cushion packaging is made of HDPE, which is a recyclable material. It causes minimal impact on the environment compared to other packaging alternatives.
How is the air cushion packaging used?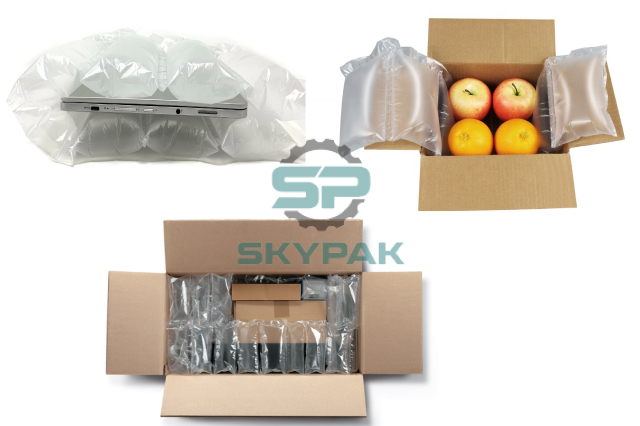 Cartons are lightweight and suitable for packing and shipping small to medium-sized items. Products that can be put in a carton: food, electronics, cosmetics…
Foods in general and vegetables, in particular, are products that are easily crushed and damaged, affecting quality. Therefore, the padding of cushion-shaped airbags can ensure the goods are fixed and reduce the impact during transportation.
Electronic components and products are also prone to dents and cracks if not carefully packed. Placing pillow-type airbags in the space between components can reduce external forces on the cargo, and minimize vibrations during travel.
Especially for cosmetic items, which are often stored in bottles, glass jars, or plastic. This type of product is very easy to break or deform if strong impacts occur. Carton bags will play the role of wrapping and fixing the product from harmful agents during transportation.