As e-commerce booms, cargo packing materials are arguably an ever more important tool to protect goods. Air Bubble Cushion Wrap and Bubble Wrap are two of the many cost-effective and efficient ways to package goods, keeping packages safe and intact. Both are great materials for packaging because they are easy to install, recyclable, light in weight, and significantly reduce or eliminate damaged products. But which one is better? Choosing the right type of backing material has a significant impact on the efficiency of your production and business activities. Follow our reviews below about the pros and cons of 2 types of duffle airbags, to make the right choice!
Difference between Air Bubble Cushion Wrap and Bubble Wrap
Bubble Wrap is a plastic sheet consisting of many small air bubbles. The main material for the production of Bubble Wrap is LDPE plastic. Bubble Wrap is often used to Wrap small packages in the mail.
Similar to Bubble Wraps, Air Bubble Cushion Wraps also take the form of air bubbles, but they are larger and can withstand higher pressure. Airbags are made from high-quality HDPE, which is a widely used and potential packaging material in domestic and foreign markets. It comes in different sizes, including thickness, width, length, and custom sizes. Airbags have a high shock resistance function and protect goods from impact and impact damage.
Advantages and disadvantages of Air Bubble Cushion Wrap and Bubble Wrap
Air Bubble Cushion Wrap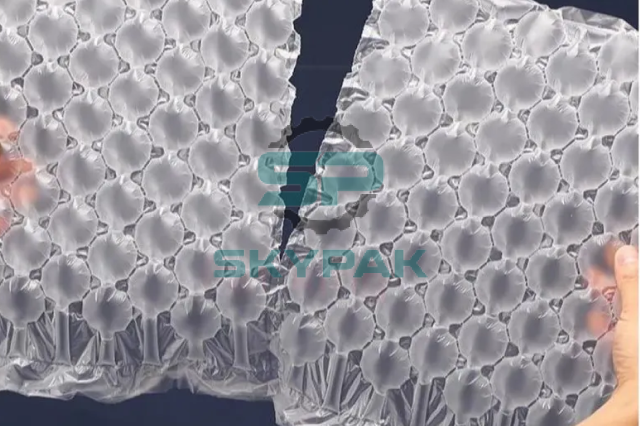 Advantages
Produced from HDPE plastic material is quite durable, recyclable, and safe for consumers' health.
Air Bubble Cushion Wrap surrounds the goods to help prevent shock, absorb and reduce damage caused by impact during transportation
High bearing capacity, can stuff goods with a weight of up to 70kg.
Cushioned padded airbag enhances the aesthetics of the package
The bag is relatively light and does not add to the weight of the box, helping to save shipping costs.
Super convenient roll-on airbag. Inflate only when needed, saving storage space.
It is possible to dunk many different types of goods in the carton.
Disadvantages
Compared with Bubble Wrap, Air Bubble Cushion Wrap has a higher cost.
Bubble Wrap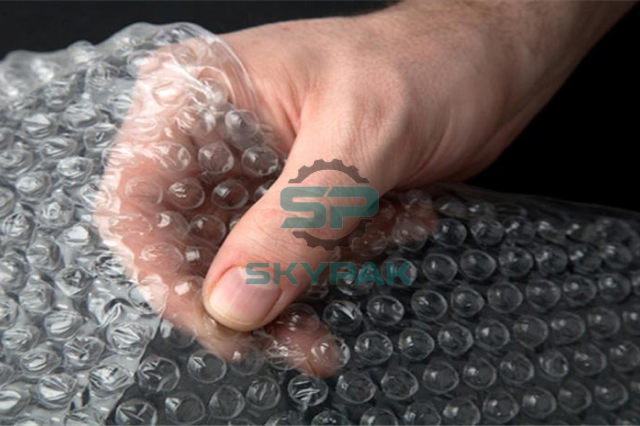 Advantages
The product is made of LDPE plastic, which has good toughness and bearing capacity
The Bubble Wrap is a bit light because its structure contains mainly air with many layers of plastic, which saves transportation costs
Compared to cushion-type airbags, air-foam membranes are cheaper and can be found in many suppliers.
Can pack a variety of goods in small and medium sizes.
Bubble Wrap has a convenient roll, easy to store.
Disadvantages
The small air pockets on the surface of the Bubble Wrap can be easily ruptured with normal hand force. This is also the reason that Bubble Wrap is also known as explosive foam.
Because the Bubble Wrap is in the form of a thin sheet, the airbags are easily broken, so the bearing capacity of the air Bubble Wrap is also much worse than that of the cushion-lined airbags. For items that are easily impacted, to ensure product safety, you must pack them with many layers of Bubble Wrap. Therefore, it takes a lot of packaging materials, time, and effort.
Through the above information, you must have had an objective view of 2 types of carton lining materials. And you can make your own packing choices. If you have any questions or need more information about backing materials, you can contact SKYPAK immediately for answers.