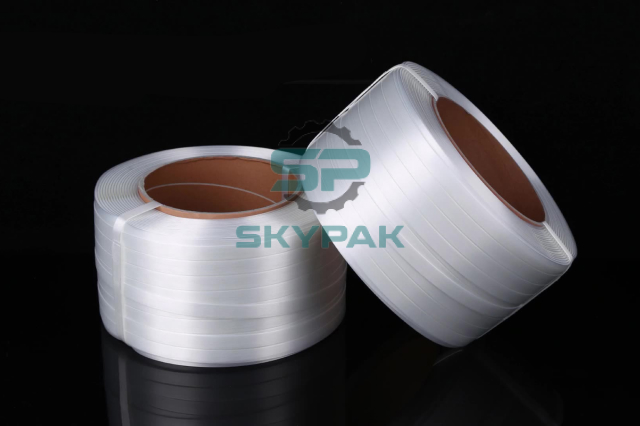 Cargo straps play an extremely important role in the process of packing and transporting goods by trucks, containers, and boats… Straps are used as a tool to tie and fix goods and prevent them from shifting and falling causing damage to packages. One of the best-rated and most popular cargo belt options available today is composite strapping. Polyester Composite Straps are known as belts with the same strength as steel straps and superior toughness like plastic. To learn more about the benefits and notes when using composite straps, let's learn more in the article below.
The benefits of Polyester Composite Straps
Composite cargo straps have an extremely good bearing capacity, comparable to steel straps, but 6 times lighter than steel straps. Therefore, the composite rope is capable of tying heavy machinery and goods.
Polyester Composite Straps are quite soft, with no sharp edges. Thanks to its good toughness and softness, the composite belt does not break during use. So users can rest assured that the goods will not be damaged and scratched, decrease in value, or cause loss of aesthetics.
Composite wire can withstand harsh weather, not rust from the impact of the external environment. Moreover, the composite belt can withstand 98% H2SO4 acid and has a long service life.
The rope is heavy-duty and has extremely good cargo tightening. Can tighten super-long, super-heavy, and bulky items extremely effectively.
The rope can be reused many times, environmentally friendly.
Compared with other types of plastic belts such as PET plastic straps and PP plastic straps, composite straps are many times stronger.
As a result, this quality composite belt product gradually becomes an indispensable material in today's industry.
Notes when using Polyester Composite Straps
For goods with a large quantity and volume, users need to fix with a long, hard ruler first and then thread the composite belt into the package.
Each belt will have the right size for a particular load. Therefore, users need to determine the tonnage of the goods in advance to choose the right composite belt size. Polyester Composite Straps are currently being marketed in popular sizes 19mm, 25mm, and 32mm. Users need to choose the right belt size for each cargo load. At the same time, choosing the size of the beetle corresponding to the wire size is also extremely important. If you choose a beetle that is too big for the size of the wire, it can interfere with the binding and waste money.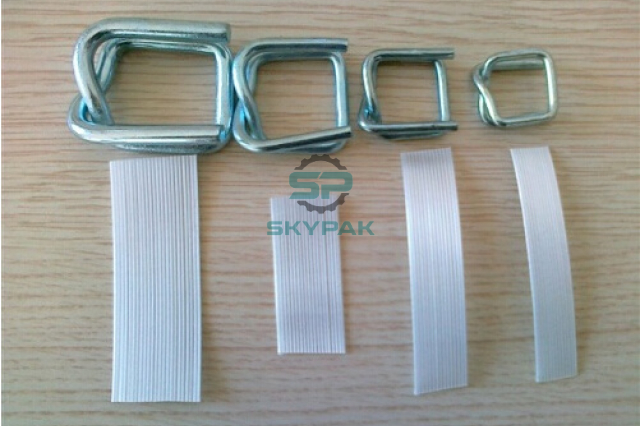 In order to bind goods more firmly and quickly, the user also needs to equip a belt-tightening tool.
Avoid using composite straps for goods handled with fire or sharp objects.
Composite belts can withstand heat from -30 degrees – 80 degrees Celsius. Therefore, the belt must be heat treated too high above 80 degrees to not be able to use this type of belt.
For goods that are too large, or bulky, making it is difficult to thread the straps. The user can use a stiff tape measure, tie the composite strapping in and thread it through the cargo.
Hopefully, with the information provided on SKYPAK, customers have a good understanding of composite belts and pay attention when using them. If you have any other questions, please contact us for assistance.