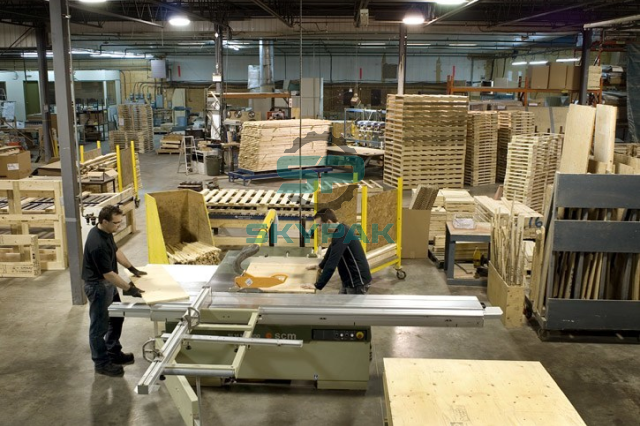 Wooden pallets are popular not only in Vietnam but also in circulation around the world. They are an essential part of many storage and transportation industries. Today, wooden pallets are often manufactured to specific standards. So to produce a wooden pallet includes several stages and how they happen. In the article below, we will go into analyzing the Wood pallet production process.
Selection of materials for the wood pallet production process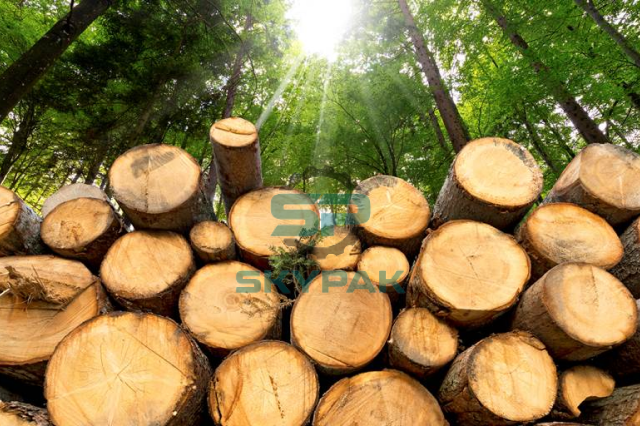 Wooden pallets made of wood. However, not all types of wood are suitable for making pallets. At the same time, the quality of each type of wood used for pallet production is also different. On the market today, three popular materials for making pallets are pine, melaleuca, and acacia wood. In particular, the origin of these woods also affects the quality of finished pallet products. For example, raw pine wood imported from Chile, Brazi,l or New Zealand, inside the body contains a layer of plastic that can resist termites. This plastic layer remains intact in the body, no matter how many stages of production, processing, or chemical treatment. That is one of the great features, which helps to produce beautiful pallet products, smooth surface, and better quality than pine grown in Vietnam.
Similarly, pallets manufactured from acacia wood, imported from Phan Thiet onwards, quality and resistance to termites will also be lower than that of acacia wood harvested in Tay Ninh, Long An.
Wood pallet production process
Wood cutting
The wood used to manufacture pallets will be cut to the appropriate length and width and sawn into planks to the given dimensions.
Disinfection treatment
After pallets are cut and sawn into planks, the pallets will be checked and stacked to be processed and disinfected according to ISPM-15 standards. It is known as International Standard on Phytosanitary Measures No. 15. This quarantine measure was implemented by the International Plant Protection Convention (IPPC). It is an extremely essential stage, directly affecting the quality of wooden pallets. In particular, for businesses wishing to export goods to international or fastidious markets, this process of handling wooden pallets by ISPM-15 standards cannot be ignored.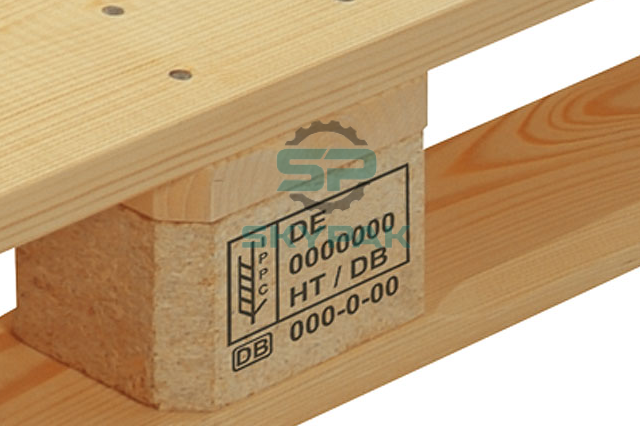 There are two methods of sterilization treatment that meet ISPM-15 standards:
Heat Treatment: The material will be heated to the specified temperature within 30 minutes. This heat treatment is indicated by the letter HT in the standard mark.

Disinfection with chemicals Methyl Bromide: Raw materials will be disinfected with chemicals Methyl Bromide. This treatment is indicated with the letter MB in the standard mark.
Depending on the customer's request for HT or MB certificate, SKYPAK will take appropriate action. This process will happen before the slats are assembled into pallets for delivery to the customer.
Wood shavings (if needed)
After the wooden slats are successfully processed, they will be smoothed on three main sides: the top wooden surface and two holes on the sides. This process is done if requested by the customer.
Finished product assembly
The last step is to join the wooden bars together and fix them with automatic machines. After being packed, pallets will be thoroughly checked to remove defective, wrong, or damaged products. After that, the assembly is completed and put into storage and preservation, ensuring standards before delivering to customers.