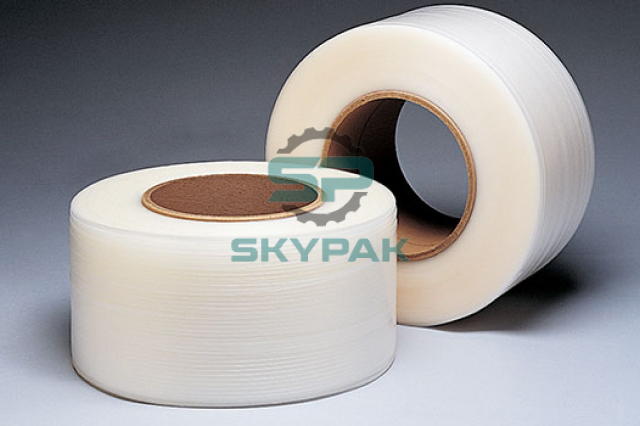 Industries that produce different types of materials must ensure that products are stored, handled, and transported safely. One process that can help them achieve these is strapping. Strapping is a process of bundling and stabilizing materials by wrapping them with specific strapping products. Many industries use regular belting to ensure that their services stay in place whenever they are stored and transported to different locations. Different strapping options can be used by different industries. But one strapping option that many people adopt today is composite straps. Composite straps use polyester yarn and are covered with polypropylene yarn. With these 2 components, the strength of the cord composite strap is appreciated as a steel strap.
What is a cord composite strap?
The cord composite strap is the most recent advancement in strapping technology. As mentioned above, composite straps are made up of vertically oriented polyester fibers coated with polypropylene. Composite straps are offered in different widths and tensile strengths. Its wear resistance is increased by the polypropylene coating but allows a little stretch during transportation. Composite straps are significantly stiffer than PET and PP straps. The stiffness of the composite belt and the belt buckle make it easier to tie the goods to the pallet.
Composite straps are flexible, lightweight, have no sharp edges, and are suitable for many uses. It is perfect for protecting and sealing delicate or delicate objects. Because the composite belt is made of lightweight yarn, it is easy to use and won't rust, rot or leave stains on the surface.
6 benefits of cord composite strap
Strong
One notable benefit of using composite straps is that it is very sturdy. The combination of polyester and polypropylene fibers allows this belt to have great durability. Its strength can even be compared with steel straps, making composite strapping straps compatible with many materials.
Shock resistance
Packages in transit are expected to collide with other packages during their entire trip. In this situation, they must be wound around a strapping material that can absorb the impact energy. Fortunately, composite strapping is highly impact-resistant due to its elastic properties, retention, and elongation. These qualities allow the composite belt to absorb impacts without breaking its load-carrying capacity and even exceed the impact resistance of steel straps.
Non-abrasive
Many of today's strapping options can hold and secure packages during delivery. However, they can scratch and peel off the surface of the goods during transit. The composite strapping material maximizes the non-abrasive polyester blend, giving the belt a soft texture to protect materials and other products from damage.
Strong
The strength of composite belts has been remarkable for many industries. However, it does not cease to impress because it can resist rust and decay. It can even withstand moisture, heat, UV rays, and other weather elements. Resistance to these can guarantee industries a strapping option that can last for a long time.
Reliable
Strapping products for the purpose of bundling and tying materials. Some strapping options on the market can be difficult to install and remove. Worse still, they can cause injury during installation and removal. However, this problem does not occur with composite strapping as this strap option has a soft texture that is easy to install and remove. It doesn't even have any sharp corners, avoiding injury to the user. In addition, they are quality-assured worldwide thanks to the TUV Rheinland certification.
As can be seen, the composite strapping belt is one of the best quality belts. They are recyclable, reusable, and environmentally friendly. To know more about using composite straps, customers can see details in this video: https://www.youtube.com/watch?v=PyzJex-Q8e8&t=339s